The Trial or The Woeful Story of Joseph K.

15+
Partially based on motifs from the novel The Trial by Franz Kafka / 60 min
In this timeless composition of music and puppets, the audience find themselves in the role of Josef K. The play mercilessly places the audience in hopeless situations, acquaints them with the inner workings of a societal machine and also with the intimate world of some of the people nearest and dearest to Joseph K. The audience is placed in the centre of happenings, where they must responsibly submit themselves to the tender mercy of the Trial. Different theatrical techniques are lined up both among the audience and around them: the black humour of hand puppets, the poetry of object-related theatre, and cabaret improvisation. Two actors, musicians and puppeteers run the machine system. Gentle puppet scenes alternate with strong rhythmic effects that occasionally erupt into a concert.
Gallery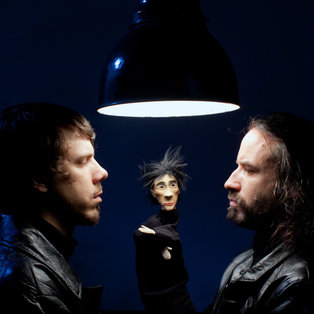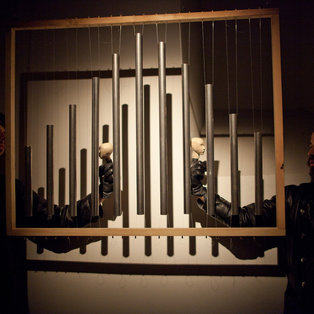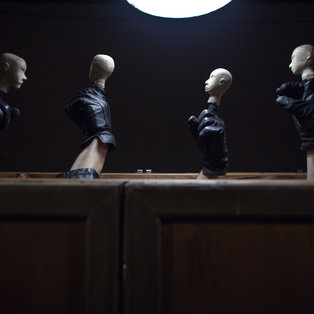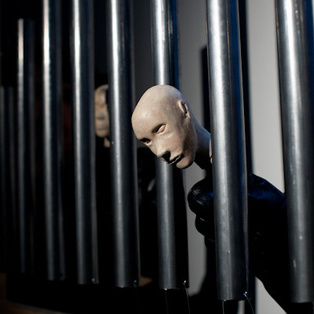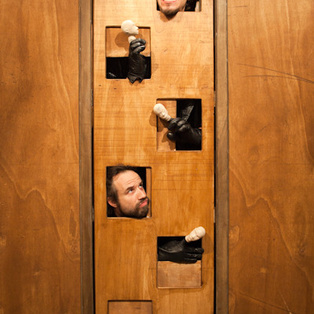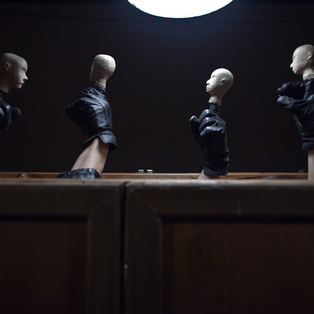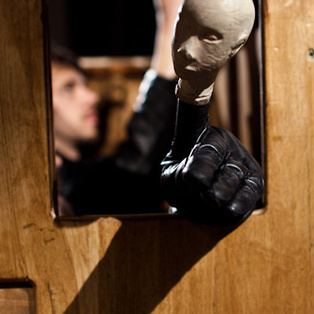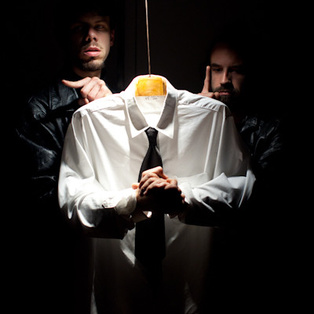 Crew and cast
Director Matija Solce
---
Visual designers Primož Mihevc and Matija Solce
---
Performers Miha Bezeljak and Miha Arh (guest appearance)
---
Dramaturge Jelena Sitar Cvetko
Composer Matija Solce
Lighting designers Matija Solce and Miljenko Knezoci
Puppet and set maker Primož Mihevc
Costume manufacturer Maja Švagelj
Wardrobe supervisor Svetlana Maloić
---
Premiere — 28. April 2012
Responses and Rewards
2013 Award for best director, awarded to Matija Solce, Pierrot international festival, Stara Zagora (Bulgaria).
2013 Grand Prix – award for the best overall performance, Biennial of Puppetry Artists of Slovenia, Maribor (Slovenia).
On tour abroad
23. August 2018
International Puppet Festival Sampo, Helsinki, Finnland
22. August 2018
International Puppet Festival Sampo, Helsinki, Finnland
20. May 2017
ILT Festival, Aarhus, Denmark
19. May 2017
ILT Festival, Aarhus, Denmark
17. May 2017
Münchener Stadtmuseum, München, Germany
28. January 2017
Münchener Stadtmuseum, München, Germany
21. July 2016
Mittelfest, Cividale del Friuli, Italy
17. June 2016
Figura Theaterfestival, Baden, Switzerland
16. June 2016
Figura Theaterfestival, Baden, Switzerland
14. November 2015
Festival de Casteliers, Montreal, Canada
22. September 2015
World Puppetry Festival, Charleville-Mézières, France
21. September 2015
World Puppetry Festival, Charleville-Mézières, France
7. June 2015
Treff Festival, Tallinn, Estonia
6. June 2015
Treff Festival, Tallinn, Estonia
12. April 2015
Gleisdorf, Austria
24. August 2014
Mikkeli, Finnland
18. June 2014
30th Festival Skupova Plzen, Plzen, Czech Republic
17. June 2014
30th Festival Skupova Plzen, Plzen, Czech Republic
14. May 2014
Tampere, Finland
13. May 2014
Tampere, Finland
10. March 2014
Wies, Austria
9. March 2014
Wies, Austria
4. November 2013
19. revija lutkovnih gledališč, Rjeka,Croatia
27. September 2013
8th Festival Pierrot, Stara Zagora, Bulgaria